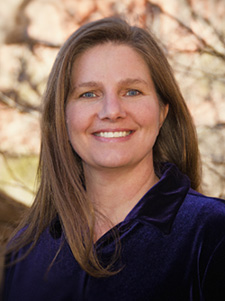 Reverend Susan Perry felt called to ministry at the age of ten, and twenty-five years later was ordained by the New Seminary in New York, in 1994, with a license as Minister, Spiritual Counseling. With its focus on the interfaith model, the seminary inspires individuals to expand their spiritual horizons to respect and honor the traditions of all of the world's faiths. Susan's ministry began in her own living room in 1991, then expanded to the more public setting of the Sedona Public Library's Community Room in 1996.
Her spiritual career has included:
• Her upbringing in the Lutheran Church, which was the inspiration and preparing ground for her call to ministry;
• Many years of study and application of the principles of metaphysics as found in the Edgar Cayce channeled material, the Findhorn Foundation, and other spiritual teachings;
• A Course in Miracles study and practice, including working for several years at Miracle Distribution Center in California;
• For twelve years, assisting her then husband, Robert Perry, found and manage the Circle of Atonement, a center dedicated to embodying and teaching the principles of A Course in Miracles;
• Living in a spiritual community for twenty years.